ANALISIS SEMIOTIKA DARK JOKE DAN SATIRE COKI PARDEDE DI MEDIA SOSIAL INSTAGRAM
Keywords:
Peirce Semiotics Analysis, Communication, Instagram, Dark joke, Satire
Abstract
Communication is currently growing with the existence of communication technology. New media are constantly being created so that the flow of communication is increasing. According to McLuhan, new media affect humans in communicating and the way they communicate affects human life. Now humans can share and communicate using social media with various motivations. Humor is one of the things that is often used in social media where ideas, opinions, and various other expressions are wrapped in humor. One of the most common uses of humor found in popular social media such as Instagram and Twitter. Like a comedian or stand-up comedian Coki Pardede who often makes dark jokes and satire on his social media. So the title of this research is "Analysis of Semiotics of Dark jokes and Coki Pardede's Satire on Instagram Social Media". The purpose of this study is to find out the meaning contained in dark jokes and satire on Coki Pardede's Instagram. By using content analysis techniques and semiotic analysis theory initiated by Charles Sanders Peirce. With the results of the study, namely knowing the meaning of dark jokes and satire on Instagram.
References
Aaker, J., & Bagdonas, N. (n.d.). Humor, Seriously. Crown.
Abdul, O., Mahbub, R., & Ab, A. (2018). Stand Up Comedy, Stand Up Comedy Indonesia, Satire, Diskriminasi, Semiotika, John Fiske. 071511533055, 1–16.
Belloc, M., D'Alessandro, S., Di Maio, M., Drago, F., & Vertova, P. (2008). Technology and the environment in the history of the economic thought. International Journal of Global Environmental Issues, 8(4), 311–334. https://doi.org/10.1504/IJGENVI.2008.019367
Burhanuddin. (2015). Representasi Kritik Sosial dalam Tayangan Stand Up Comedy Indonesia Kompas TV: Analisis Semiotika Dekonstruksi. Jurnal Komunikasi, 151, 10–17.
Diana, S. (2020). THE DISCLOSURE OF DARK HUMOR AND COMEDIC SOCIOPATHY THROUGH INCONGRUITIES MADE BY THE VILLAIN THE JOKER IN Humor is a common form of interaction . According to Paolo ( 1980 ), humor has two ingredients , incongruity and appropriate emotional climate . It . 4(1), 70–83.
KEMDIKBUD. (2016). sa.ti.re /satirê/. https://kbbi.kemdikbud.go.id/entri/satire
KEMENDIKBUD. (2016). Humor/hu.mor/. Badan Pengembangan Dan Pembinaan Bahasa. https://kbbi.kemdikbud.go.id/entri/humor
Leonardo, R., & Junaidi, A. (2020). Kritik Sosial dalam Stand Up Comedy (Analisis Semiotika Show "Pragiwaksono World Tour"). Jurnal Komunikasi, 4(2), 185. https://doi.org/10.24912/kn.v4i2.8077
Luthfi, A. H. (2020). Analisis Semiotika Kritik Sosial dalam Balutan Humor pada Komik Faktap. Jurnal ILMU KOMUNIKASI, 17(1), 19. https://doi.org/10.24002/jik.v17i1.1968
Nafisah, S. (2020). Arti Isyarat Tangan yang Berbeda di Bebebrapa Negara. Bobo.Id. https://bobo.grid.id/agar-tidak-salah-diartikan-kenali-berbagai-arti-isyarat-tangan-yang-berbeda-di-beberapa-negara
Nugroho, P. (2017). Potret Stand Up Comedy?: Strategi Menjadi Comedian Handal. Pustaka Baru Press.
Rahmanadji, D. (2007). Sejarah, teori, jenis, dan fungsi humor. Bahasa Dan Seni, 35(2), 213–221.
Sugiarto, V. D. (2016). Teknik Humor dalam Film Komedi yang Dibintangi oleh Stand Up Comedian. Jurnal E-Komunikasi, 4(1), 1–12.
Sugiyono, P. D. (2019). METODE PENELITIAN KUNTITATIF KUALITATIF DAN RND (D. I. Sutopo (ed.); 2nd ed.). Alfa Beta Bandung.
Syobah, N. (2011). Media dan Saluran Komunikasi Islam. Jurnal Komunikasi Dan Sosial Keagamaan, 49.
Toyadha, G. (2017). ANALISIS SEMIOTIKA PEMAKNAAN LELUCON SATIRE THE JOKER PADA BUKU NOVEL GRAFIS BATMAN?: THE KILLING JOKE ( ANALISIS SEMIOTIKA ROLAND BARTHES ). Jurnal Komunikasi, 4(3), 3165–3184.
Ustadz, A. (2018). Mnegacungkan Jari Telunjuk ke Atas; Antara Ibadah dan Caci Maki. Bincang Syaiah.Com. https://bincangsyariah.com/ubudiyah/jari-telunjuk-ke-atas/
We Are Social & Hootsuite. (2020). Indonesia Digital report 2020. Global Digital Insights, 43.
Yusvia, D.E.(2020). Representasi Sparrow Face Remaja Pengguna Instagram. Pawitra Komunika. Jurnal ilmu Komunikasi dan Sosial Humaniora. http://ejurnal.unim.ac.id/index.php/pawitrakomunika/article/view/718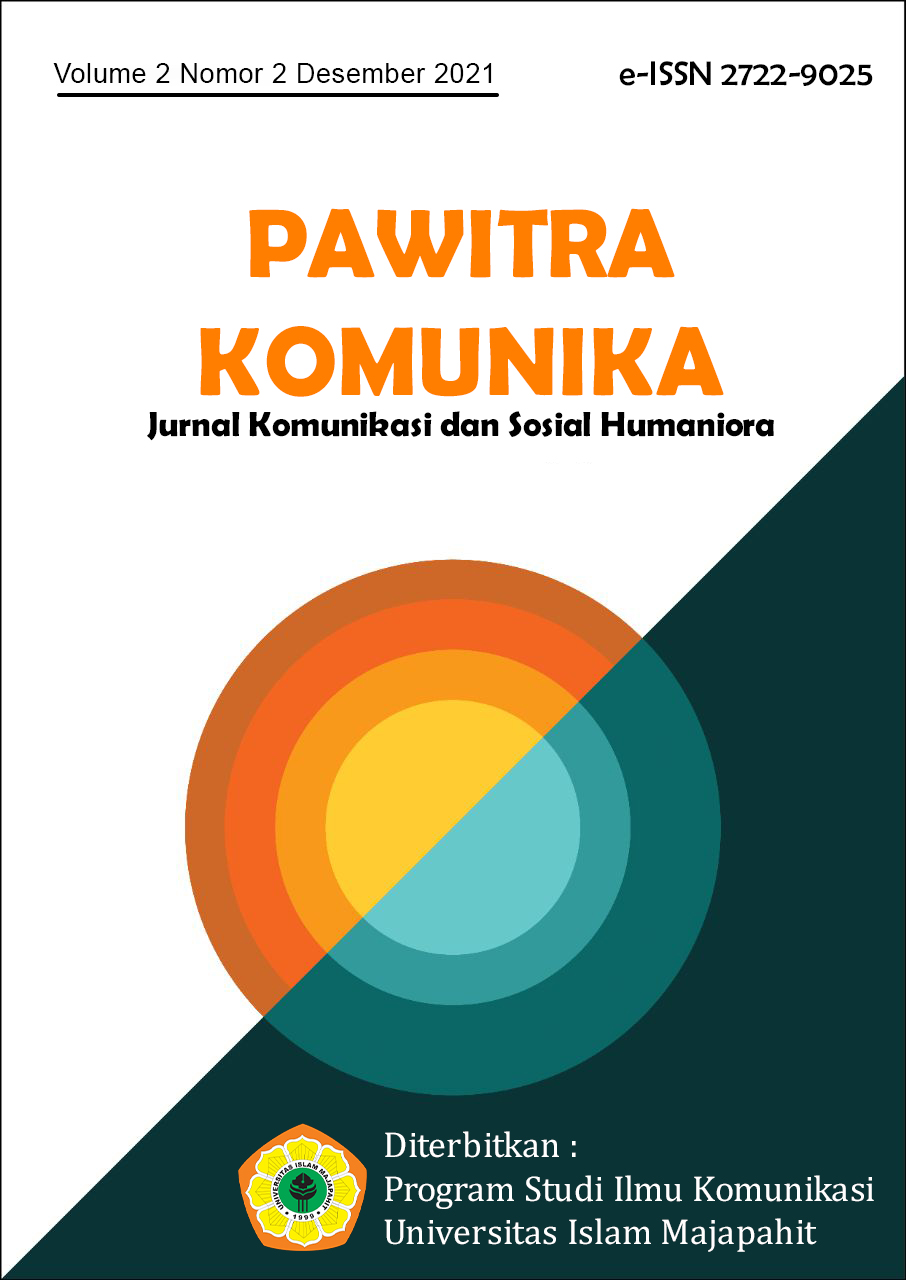 Downloads