Studi Pemikiran Al Faruqi tentang Tauhid Ilmu dan Politik
Abstract
Ismail Raji Al-Faruqi merupakan tokoh dunia Islam yang banyak dikenal dengan teori Islamisasi ilmu pengetahuan, gagasan Al-Faruqi muncul merupakan bentuk kepeduliannya terhadap keilmuan Islam karena saat itu sudah muncul yang dinamakan dikotomi ilmu yang mengelompokkan ilmu Barat dan Ilmu Islam, Al-Faruqi yang memiliki banyak latar pendidikan dari Barat mencoba memberikan nuansa baru Islam dengan tetap mempelajari keilmuan barat namun memberi nilai-nilai keislaman di dalamnya sebagai tolak ukur keberhasilan ilmu pengetahuan itu sendiri, dan gagasan inipun banyak memunculkan pro kontra pada masyarakat Islam kala itu sehingga sampai membuat dirinya menjadi terkenal di dunia. Selanjutnya Ismail Raji Al-Faruqi memberikan gambaran seharusnya keilmuan itu dengan membuat seakan-akan ada rantai di antara ilmu satu dan lainnya yang saling berkaitan tetapi yang menjadi titik utama adalah ilmu tauhid karena menurutnya ilmu ini adalah ilmu yang paling utama sebelum memunculkan ilmu lanjutan seperti contoh ilmu tauhid  mampu mempengaruhi pemikirannya hingga membentuk sebuah internalisasi keimanan yang kemudian merambah dalam pengaturan keduniawian sebagai pendukung adalah politik karena memegang peranan penting dalam sebuah sistem dimanapun berada dari politik tersebut memunculkan sebuah pembentukan kepemimpinan yang nantinya menguasai sistem sebuah ketatanegaraan yang selanjutnya akan kembali terhadap kebebasan ilmu itu sendiri yang nantinya akan tetap menjadi dikotomi ataukah memberikan nilai-nilai yang bernuansa Islam.
References
A.M.Saefuddin, (1997). Desekularisasi Pemikiran; Landasan Islamisasi, Bandung: Mizan
Abdullah. Amin, (1995). Filsafat Kalam di Era Post Modernisme. Yogyakarta: Pustaka Pelajar
Al-Faruqi, (ed). (1974). Historical Atlas of the Religions of Word, New York:Macmillan co, inc.
Al-Faruqi, Tauhid, (1982), Its Implementations For Thought And Life. Wynccote USA: The International Institute of Islamic Thought,
Al-Faruqi, Ismail Rji al-, (1986). Islamization of knowledge: the general principles and the workplan dalam Knowledge for what? Islamabad-Fakistan: National Hijra Council,
Anis, Ahmad. Reorientation of Islamic History: some methodological issues. In Islam; Source and Purpose of Knowledge IIIT. Herndon: The International Institut of Islamic Thought
khalil, Imanuddin. (1994), Pengantar Islamisasi ilmu Pengetahuan dan Sejarah. Jakarta: Media Dakwah
Suroso, dkk., (1994). Psikologi Islam, solusi Islam atas Problem-problem Psikologi. Yogyakarta: Pustaka Pelajar.
Taqi, Muhammad Misbah, (1996), Monoteisme Tauhid Sebagai Sistem Nilai dan Akidah Islam. Terjemahan oleh M.Hashem dari At Tauhid or Monotheisme: Asin The Ideological and The Value Systems of Islam. Jakarta: Lenterabastitama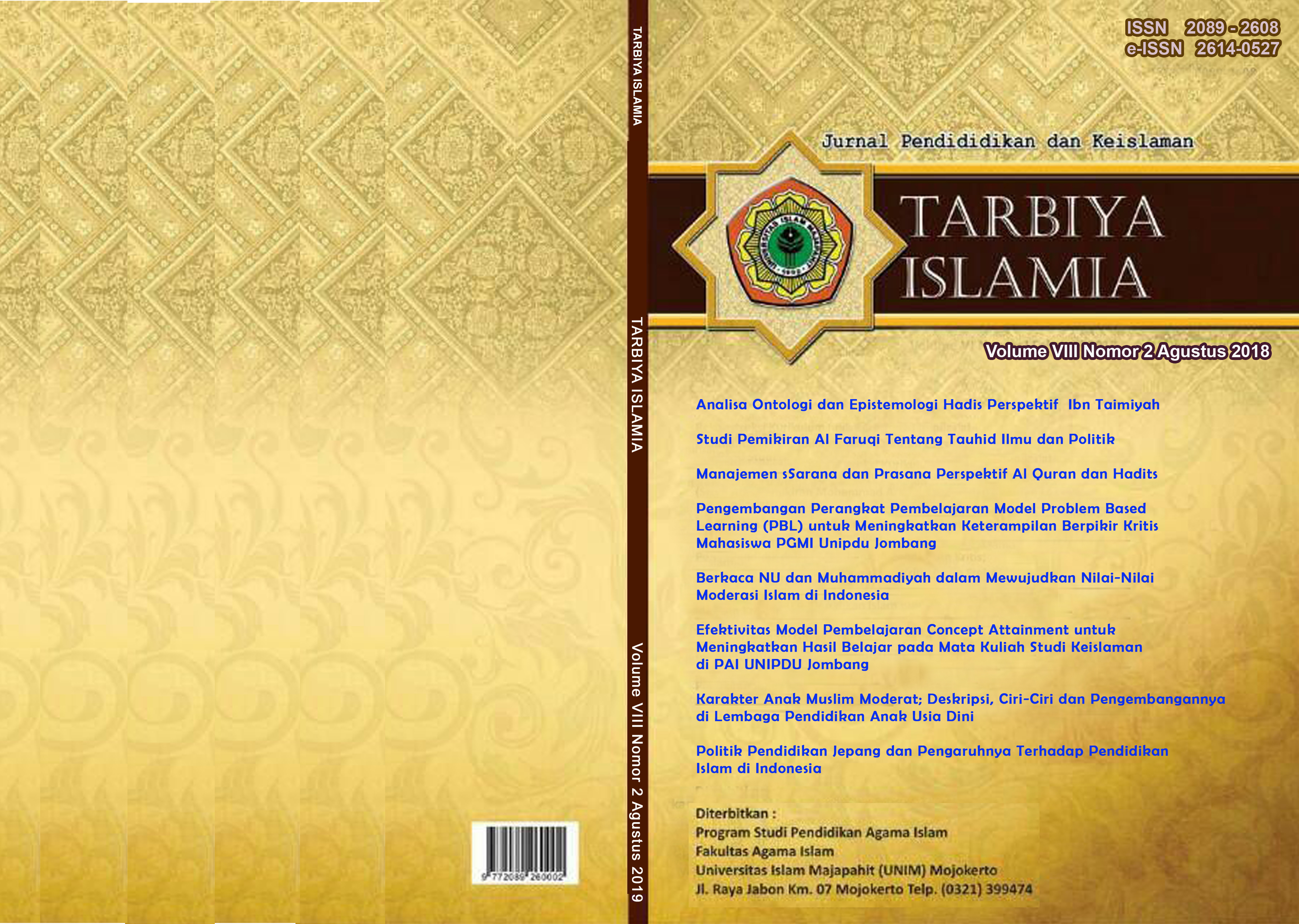 This work is licensed under a Creative Commons Attribution-NonCommercial-ShareAlike 4.0 International License.
All rights reserved.
this publication may be reproduced, stored in a retrieval system, or transmitted in any form or by any means, electronic, mechanical, photocopying, recording. Consequently, form this copyright notice, the author(s) have copyright for this publication.