Pengembangan Perangkat Pembelajaran Himpunan dengan Model Problem Based Learning Berorientasi Pendidikan Karakter untuk Meningkatkan Kemampuan Pemecahan Masalah
Keywords:
learning device mathematics, sets, problem based learning, character education, problem solving
Abstract
This study aimed to know the characteristics of the device and the results development of set learning device with Problem Based Learning models oriented character education that was quality is valid, practical and effective. In this study developed learning tools in the form of Teacher Book and Student Books. The type of research used is design research. The subjects of this study were students of Denpasar State Middle School Saraswati 1. The Development of the learning tool follows the Plomp development procedure which includes the preliminary phases, prototype phase, and assessment phase. The learning device validity data was based on expert opinion. The practicality data of instructional devices is based on instruction learning device data, student response questionnaire and teacher response questionnaire. Data on the effectiveness of instructional tools were collected using mathematical problem-solving tests. The validation results indicated that the teacher book and the student books manuals developed obtained valid categories. The results of observation of the implementation of learning, repons students and teacher responses indicate that the implementation of learning was categorized as practical. Based on the results of the test the learning device was included in the effective criteria.
References
Aunillah, N. . (2011). Menerapkan Pendidikan Karakter di Sekolah. Erlangga.
Fadillah, S. (2010). Kemampuan Pemecahan Masalah Matematis dalam Pembelajaran Matematika. Prosiding Seminar Nasional Penelitian, Pendidikan Dan Penerapan MIPA, Fakultas MIPA, Universitas Negeri Yogyakarta.
Harahap, E. R. (2017). Kemampuan Pemecahan Masalah Matematis Siswa Kelas VII Dalam Menyelesaikan Persamaan Linear Satu Variabel. Edumatica.
KEMENDIKBUD. (2016). Salinan Lampiran Peraturan Menteri Pendidikan Dan Kebudayaan Nomor 22 Tahun 2016 Tentang Standar Proses Pendidikan Dasar Dan Menengah. PERMENDIKBUD. https://doi.org/https://doi.org/10.3929/ethz-b-000238666
OECD. (2013). Resultados PISA 2012. Informe Pisa. https://doi.org/http://dx.doi.org/10.1787/9789264266490-en
Plomp, T. (SLO), & Nieveen, N. (SLO). (2013). Educational Design Research Educational Design Research. Educational Design Research. https://doi.org/10.1007/978-1-4614-3185-5_11
Riastini, P. N., & Mustika, I. K. A. (2017). PENGARUH MODEL POLYA TERHADAP KEMAMPUAN PEMECAHAN MASALAH MATEMATIKA SISWA KELAS V SD. International Journal of Elementary Education. https://doi.org/10.23887/ijee.v1i3.11887
Riyanto, B., & Siroj, R. A. (2014). MENINGKATKAN KEMAMPUAN PENALARAN DAN PRESTASI MATEMATIKA DENGAN PENDEKATAN KONSTRUKTIVISME PADA SISWA SEKOLAH MENENGAH ATAS. Jurnal Pendidikan Matematika. https://doi.org/10.22342/jpm.5.2.581.
Siagian, M. V., Saragih, S., & Sinaga, B. (2019). Development of Learning Materials Oriented on Problem-Based Learning Model to Improve Students' Mathematical Problem Solving Ability and Metacognition Ability. International Electronic Journal of Mathematics Education. https://doi.org/10.29333/iejme/5717
Suyadi. (2013). Strategi Pembelajaran Pendidikan Karakter. Remaja Rosdakarya.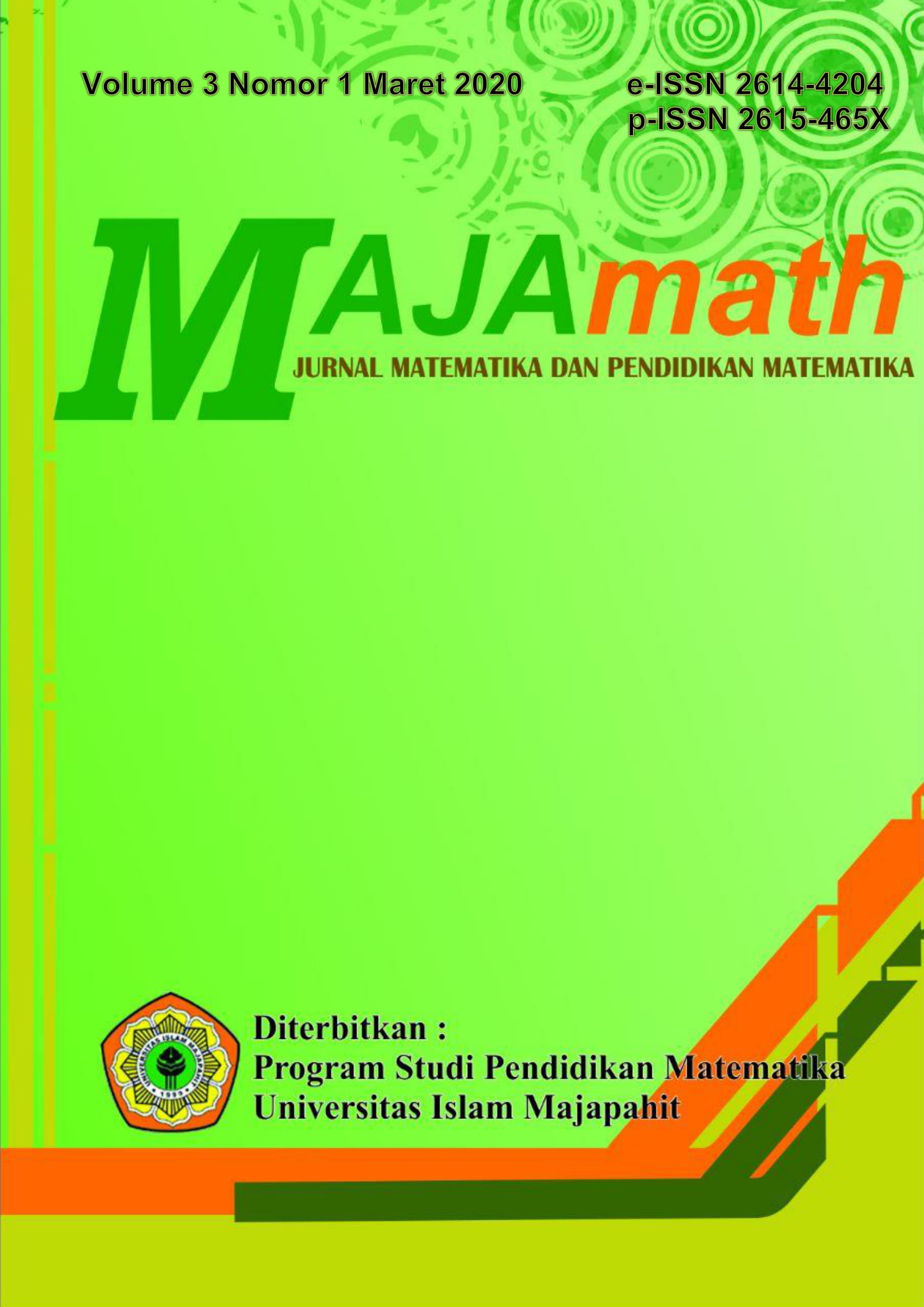 Downloads
License
Seluruh artikel di jurnal ini dapat disebarluaskan dengan tetap mencamtumkan sumber yang sah. Identitas judul artikel tidak boleh dihilangkan. Penerbit tidak bertanggung jawab terhadap naskah yang diplubikasikan. Isi artikel menjadi tanggung jawab penulis.