Pengembangan Perangkat Pembelajaran Langsung dengan Media Animasi Berbasis Flash pada Materi Kubus dan Balok
Keywords:
Cube and cuboid, Direct intruction, Macromedia Flash
Abstract
This research is triggered by low students learning outcomes in cube and cuboid material. It was occured because teacher was dominating learning activities. As a resuly, an alternatif learning activities based on flash based animation media. This research is a development of research. The purpose of this research is to produce the direct learning based on Macromedia Flash device which can improve student learning outcomes in class VIII on the topic cube and cuboid. Development of a learning device performed using 4-D models (model Thiagarajan et al). Learning device produced in the form of: (1) Lesson Plan (RPP), (2) Introductional Media Based on Macromedia Flash, (3)Student Worksheet (LKS), and (4) Learning Outcomes (THB).Based on the results of the test device, obtained by the direct learning based on Macromedia Flash have been valid according to the validator and qualified: (1) the ability to manage the learning criteria of good teachers, (2) the activity of students active in the learning process, (3) Classical learning completeness reached, (4) students response positive a learning component, (5) the learning outcomes test meet the criteria for a valid, reliable, and sensitive. Thus, it can be concluded that problem based learning was effective.
References
Ariani, Niken, and Dany Haryanto. 2010. Pembelajaran Multimedia Di Sekolah. Jakarta: Prestasi Pustaka.
Association of Education and Communication Technology. 2017. The Definition of Educational Terminology. Washington DC.: Association for Educational Communication and Technology.
Clark, J. M., and A. Paivio. 1991. "Dual Coding Theory and Education." Educational Psychology Review 3 (3): 149–210.
Djamarah, Syaiful Bahri, and Zain. 2012. Strategi Belajar Mengajar. Jakarta: Rineka Cipta.
Hidayatullah, Priyatnto, Akbar Amarullah, and Zaky Rahim. 2011. Animasi Pendidikan Menggunakan Flash. Bandung: Informatika Bandung.
Ibrahim, M. 2010. Peningkatan Kompetensi Pedagogi Dan Kinerja MIPA. Malang: Pelatihan Guru MIPA.
Kardi, Soeparman, and Mohamad Nur. 2015. Pengajaran Langsung. Surabaya: Universitas Surabaya Press.
Mardiyono, Sugeng. 2005. "Inovasi Pembelajaran Matematika Dan Sistem Evaluasinya Berdasarkan Kurikulum Berbasis Kompetensi." In Seminar Nasional Matematika Dan Pendidikan Matematika. Yogyakarta: Departemen Pendidikan Nasional: Universitas Negeri Yogyakarta.
Mustaji. 2013. Media Pembelajaran. Surabaya: Unesa Press.
Rosari, R. W. 2009. Special Workshop: Macromedia Captivate. Yogyakarta: Andi Offset.
Slamento. 2010. Belajar Dan Faktor-Faktor Yang Mempengaruhinya. Jakarta: PT. Rineka Cipta.
Sudjana, N. 2009. Dasar-Dasar Proses Belajar Mengajar. Bandung: Sinar Baru Algensindo.
Sudjana, and Ahmad Rivai. 2010. Media Pengajaran. Bandung: Sinar Baru Algensindo.
Sugiyono. 2010. Metode Penelitian Kuantitatif, Kualitatif Dan R&D. Bandung: Alfabeta.
Suhardi. 2008. Media Pendidikan Matematika. Jakarta: Dirjen PMPTK Depdiknas.
Winkel, W. 2019. Psikologi Pengajaran. Jakarta: PT. Gramedia Widiasarana Indonesia.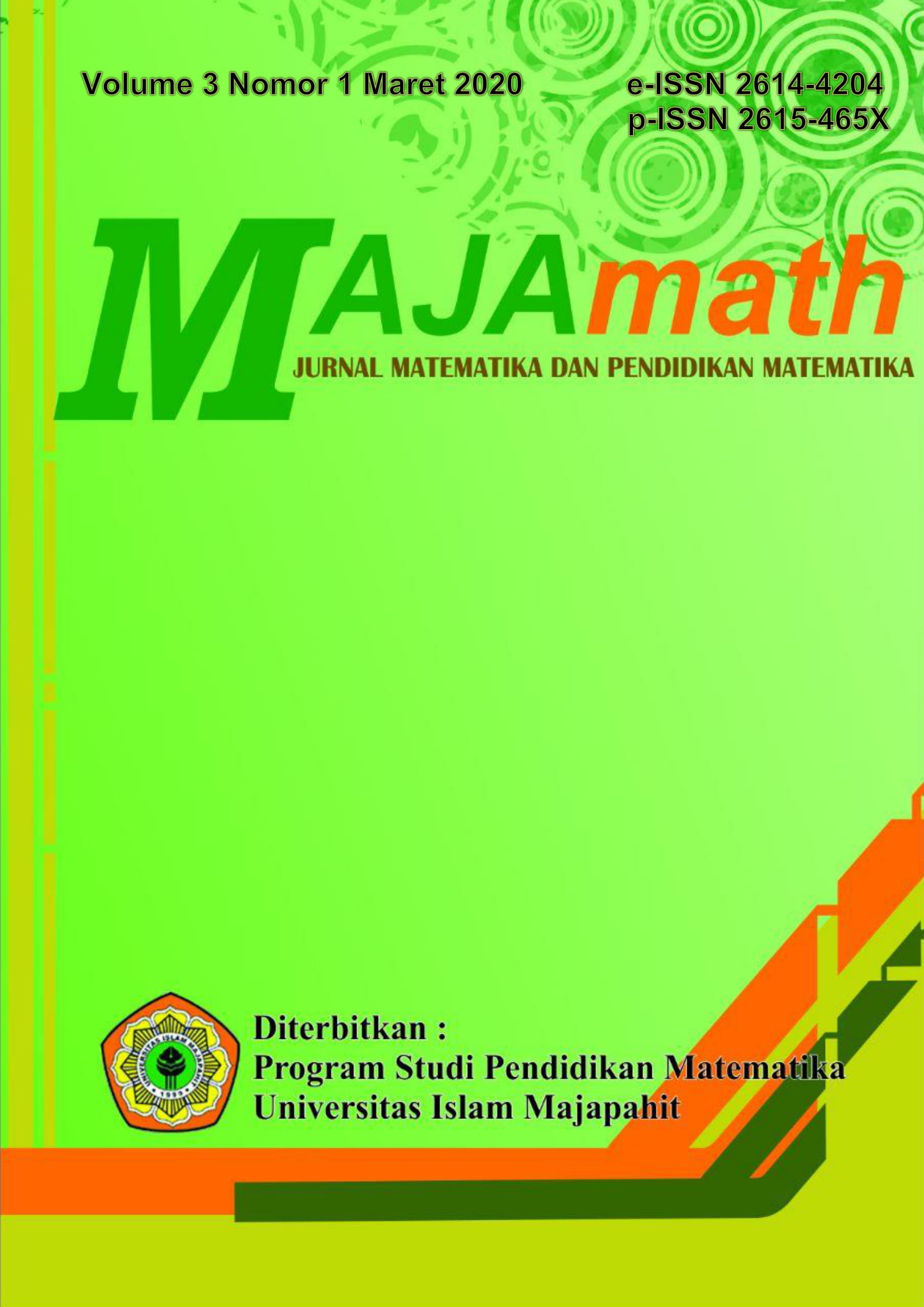 Downloads
License
Seluruh artikel di jurnal ini dapat disebarluaskan dengan tetap mencamtumkan sumber yang sah. Identitas judul artikel tidak boleh dihilangkan. Penerbit tidak bertanggung jawab terhadap naskah yang diplubikasikan. Isi artikel menjadi tanggung jawab penulis.