THE ROLE OF JOURNALIST IN COVID VACCINES 19 PERSUASIVE ADS
PERAN JURNALIS DALAM IKLAN PERSUASIF TERHADAP COVID-19
Keywords:
Hoax, Journalist, Covid-19
Abstract
The purpose of this study was to find out the role of journalists in the Covid-19 pandemic and find out how to identify hoax news spread, especially on social media. This research object is a secondary research object, where the material used to earn data income in the form of written documents such as journals, articles and written news. The method that researchers use is observation list, where the author collects data through some existing written data to review and prove the truth of the research conducted. In this article researchers prove that a journalist is considered the most important role in delivering news accurately and vaktually. News is also spread through social media so that the public avoids hoax news that is easily spread in the general public. Hoax news is news that is uncertain or does not have the truth in the content of the news, for that as a society, as a society.
References
Alhamid, T. (2019). Instrumen Pengumpulan Data. Sekolah Tinggi Agama Islam Negeri.
Briyandewo, J. (2017). Jenis-Jenis Iklan dan Teknik Persuasi Dalam Tiga Puluh Iklan Surat Kabar Kompas Periode 2015-2017. Universitas Sanata Dharma.
Dede. (2019). Peranan Jurnalis Media Televisi dalam Proses Pemulihan Korban Bencana Alam di Kota Palu (Studi pada Palu TV). Journal of Chemical Information and Modeling, 53(9), 1689–1699.
Juditha, C. (2020). People Behavior Related To The Spread Of Covid-19's Hoax.
Journal Pekommas, 5(2), 105. https://doi.org/10.30818/jpkm.2020.2050201 Kemenkes RI. (2014). Profil Kesehatan Indonesia. Kementrian Kesehatan
Indonesia. In Pusdatin.Kemenkes.Go.Id.
Mawangi, G. T. (2021). WHO dan UNESCO Tegaskan Peran Jurnalis Dukung Vaksinasi Covid-19. Humaniora. https://m.mediaindonesia.com/humaniora/381166/who-dan-unesco-tegaskan- peran-jurnalis-dukung-vaksinasi-covid-19
Nugroho, Yusuf, S., & Setyawan. (2014). The Identification and Deterrence Attempts of Fake News (Hoax) on Indonesian Language Learning.
Klasifikasi Masa Studi Mahasiswa Fakultas Komunikasi Dan Informatika Universitas Muhammadiyah Surakarta Menggunakan Algoritma C4.5, VI(1), 84–91.
Prasetya, B. (2007). Metode Penelitian Kuantitaif Teori dan Aplikasi. PT Raja Grafindo Persada.
Rachmanta, R. D., Lestari, M. T., & Pamungkas, I. N. . (2016). Teknik Persuasi pada Periklanan Digital sebagai Strategi Komunikasi Pemasaran (Studi Deskriptif Produk Indihome PT Telekomunikasi Indonesia). E-Proceeding of Management, 3(2), 2566–2570.
Romanova, I. D., & Smirnova, I. V. (2019). Persuasive techniques in advertising.
Trainin,Language and Culture, 3(2), 55–70.https://doi.org/10.29366/2019tlc.3.2.4
Sugiyono. (2017). Metode Penelitian Pendidikan. Alfabeta.
Wahyudi, D. (2021). Pengaruh Berita Hoax di Media Sosial Terhadap Masyarakat (Studi di Kecamatan Alam Barajo). 4(1), 85.
Wahyudin, P. J. (2016). Pengantar Jurnalistik Olahraga. Pengantar Jurnalistik Olahraga, 42.
Warsa. (2021). Tantangan Jurnalis di Tengah Pandemi. CNN Indonesia, Youtube. https://youtu.be/DRiYAB53w-Y
Yuliana, Y. (2020). Corona virus diseases (Covid-19): Sebuah tinjauan literatur.
Wellness And Healthy Magazine, 2(1), 187–192. https://doi.org/10.30604/well.95212020
Yusnidar. (2021). Penerapan Model Pembelajaran Think Pair Share (TPS) untuk Meningkatkan Hasil Belajar Materi Teks Biografi pada Siswa SMA Negeri Unggul Aceh Timur. Samudera Bahasa, 4(September). https://ejurnalunsam.id/index.php/JSB/issue/view/275/52
Yusuf. (2020). Jurnalis Garda Terdepan Informasi Covid-19. Berita Kominfo. https://kominfo.go.id/content/detail/26483/menkominfo-jurnalis-garda- terdepan-informasi-covid-19/0/berita_satker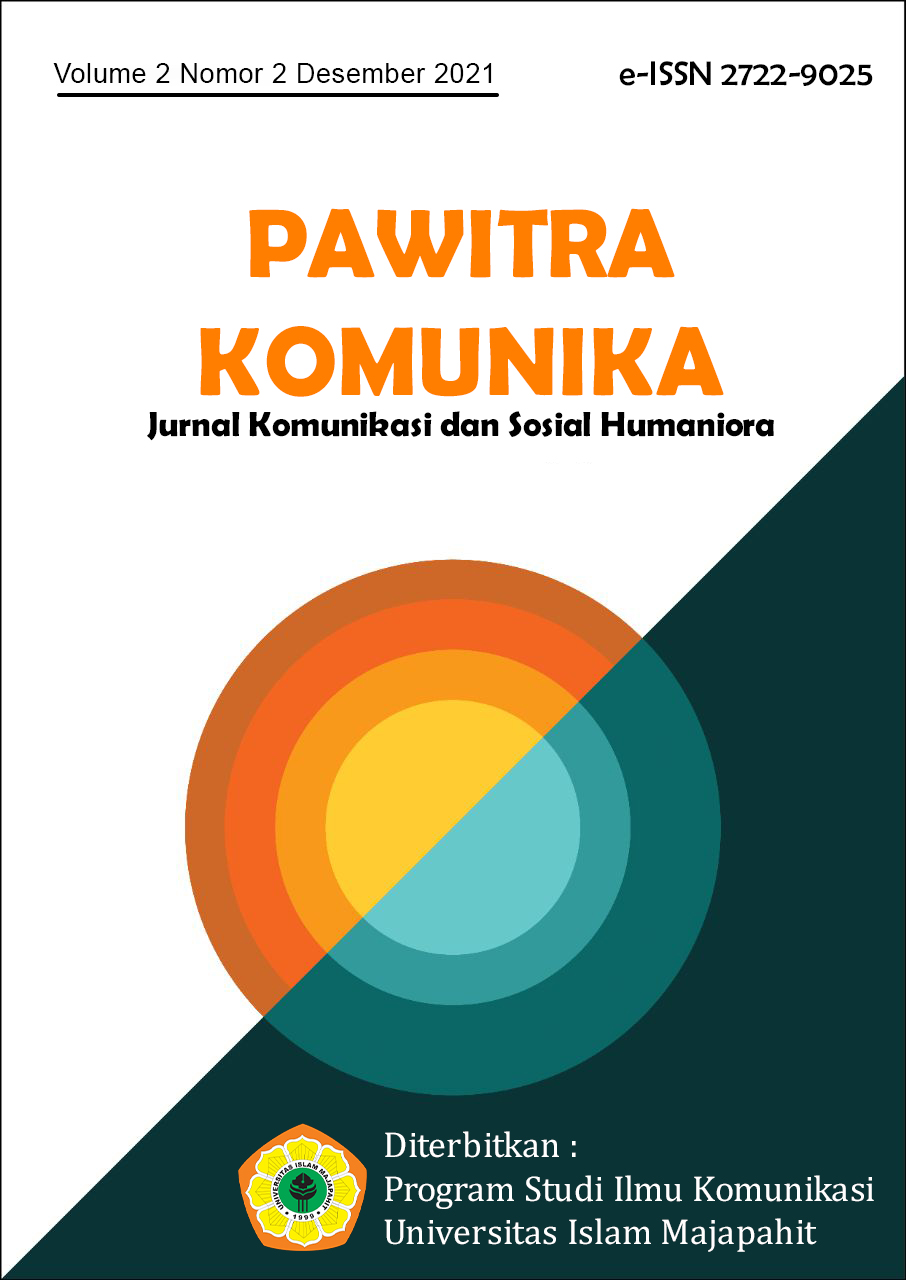 Downloads