THE EFFECTIVENESS OF LEARNING COMMUNICATION THROUGH GOOGLE CLASSROOM TO AHMAD DAHLAN UNIVERSITY STUDENTS
Keywords:
Learning Communication, Google Classroom, Effective Communications
Abstract
ABSTRACT
When all countries were shocked by the coronavirus outbreak or Covid-19,  World Health Organization (WHO) designated this incident as a pandemic. As a result, learning activities must be carried out online using learning media. One of the learning media used is Google Classroom. However, there are several problems or obstacles in using Google Classroom online. As students do not understand the message conveyed, communication becomes ineffective. This study aims to determine the effectiveness of learning communication through Google Classroom at Ahmad Dahlan University students. This study uses a quantitative method, namely the survey to Ahmad Dahlan University students who use Google Classroom as a learning medium. The data collection method used a questionnaire and obtained 150 valid respondents. From the simple linear regression test results, there is the effectiveness of learning communication through Google Classroom. The effectiveness has a value of 62.2%. So it can be concluded that using Google Classroom as a communication medium for student learning is effective for Ahmad Dahlan University students. This study suggests that lecturers and students take advantage of the comments feature in Google Classroom.
References
Arsyad, Azhar. 2010. Media Pembelajaran. Jakarta: Rajawali Pers
Azhar,K.A, & Iqbal, N. 2018. Effectiveness of Google Classroom: Teachers' perceptions. Prizren Social Science Journal, 2(2), 52–66. https://prizrenjournal.com/index.php/PSSJ/article/view/39
Efendi, Yusuf, & Widodo, A. (2019). Uji Validitas dan Reliabilitas Instrumen Tes Shooting Sepak Bola Pada Pemain Tim Persiwa FC Jatiyoso. Jurnal Kesehatan Olahraga,7,368-369. https://ejournal.unesa.ac.id/index.php/jurnal-kesehatan-olahraga/article/view/29565
Fathonurrohma, F., Salim, Mufid., Sultana, Ashiqha., 2022. Teacher And Student Interpersonal Communication Patterns During The Covid-19 Pandemic at Middle School. Proceeding Youth Communication Day 2021 International Conference and Workshop "Communication Challenges in the Age of Hybrid" Vol. 1 p345 – 363 http://youth-comday.uad.ac.id
Hardjana, Andre. 2000. Audit Komunikasi: Teori dan Praktek. Jakarta: PT.Grasindo.
Johar,R & Hanum, L. 2016. Strategi Belajar Mengajar. Yogyakarta: Deepublish
Kemdikbud. 2020. Surat Edaran Nomor 1 Tahun 2020 tentang Pencegahan Penyebaran Corona Virus Disease (Covid-19) di Perguruan Tinggi, Kementrian Pendidikan dan Kebudayaan. Indonesia: Kementerian Pendidikan dan Kebudayaan Direktorat Jenderal Pendidikan Tinggi. Diakses pada 27 Juni 2021dari https://www.kemdikbud.go.id/main/.
Mayangsari, D., & Salim, M. 2021. The Effectiveness of University Instagram Account as Information Media for Students. Proceedings of the 3rd Jogjakarta Communication Conference (JCC 2021), 1(1). https://doi.org/10.2991/assehr.k.211121.040
Mona, Nailul. 2020. Konsep Isolasi Dalam Jaringan Sosial Untuk Meminimalisasi Efek Contagious (Kasus Penyebaran Virus Corona di Indonesia). Jurnal Sosial Humaniora Terapan. 2(2). http://www.journal.vokasi.ui.ac.id/index.php/jsht
Mulyana, Deddy. 2007. Ilmu Komunikasi Suatu Pengantar. Bandung: PT. Remaja Rosdakarya.
Pamungkas, Mochammad Ade. 2020. Cara Mendownload File atau Dokumen dari Google Classroom. Diakses pada 10 September 2020 Pukul 16.00WIB. Melalui link https://tirto.id/cara-mendownload-file-atau-dokumen-dari-google-classroom-fPED
PDDikti. 2020. Pangkalan Data Pendidikan Tinggi (Profil Perguruan Tinggi). Diakses pada 23 Maret 2021. Melalui link https://pddikti.kemdikbud.go.id/data_pt/RUY5ODMwNTItNDhBMC00QUZELUFBNEMtRkMxNDJCNTNGMEZG
Purwanto, E. 2011. Metode Penelitian Kuantitatif. Yogyakarta: Gaya Media.
Sadiman. dkk. 1996. Media Pendidikan: Pengertian, Pengembangan, dan Pemanfaatannya. Jakarta: PT. Raya Grafindo Persada.
Salim, M., Utami, F. A., & Bramayanto, H. 2021. Digital Media-Based Nutrition Health Communication Model. Proceedings of the 3rd Jogjakarta Communication Conference (JCC 2021), 1(1). https://doi.org/10.2991/assehr.k.211121.059.
Slamet, Riyanto & Hatmawan, Aglis Andhita. 2020. Metode Riset Penelitian Kuantitatif Penelitian Di Bidang Manajemen, Teknik, Pendidikan Dan Eksperimen. Yogyakarta: Deepublish.
Sugiyono. 2013. Metode Penelitian Kuantitatif, Kualitatif dan R&D. Bandung: Alfabeta.
Suhada, I. 2020. Pembelajaran Daring Berbasis Google Classroom Mahasiswa Pendidikan Biologi Pada Masa Wabah Covid-19. Digilib.Uinsgd.Ac.Id, 1–9.
Uwes, Sanusi. 2003. Visi dan Pondasi Pendidikan (Dalam Perspektif Islam). Jakarta: Logos.
Webometrics.info. 2021. Rangking Web of Universities. Diakses pada tanggal 22 Februari 2022 melalui link https://webometrics.info/en/Asia/Indonesia%20.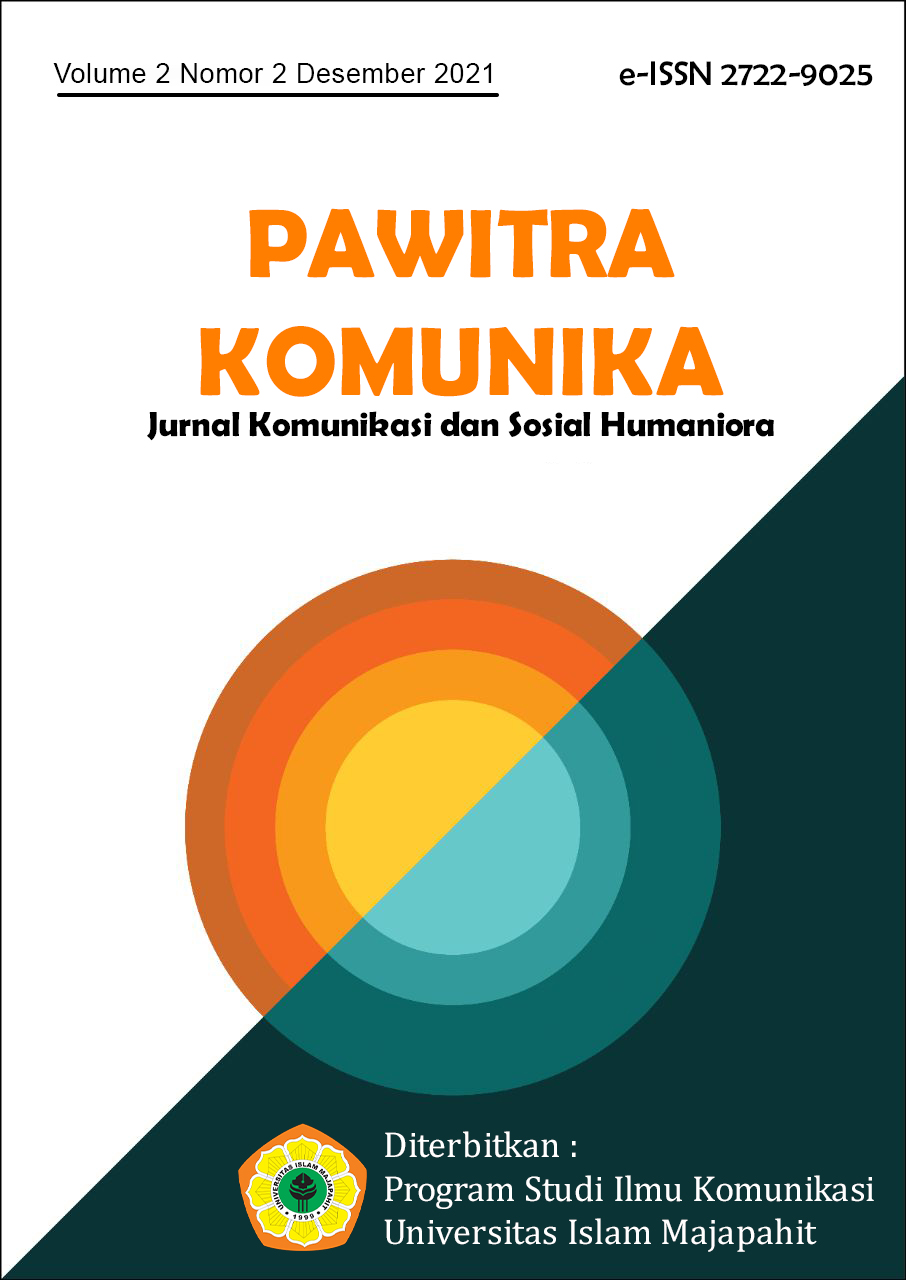 Downloads